In this section you will find the fresh food products that we prepare and make available to our valued customers.
Super Sprouts
The number one food preferred by all our pet and parent birds!
A high-protein mix of Adzuki Beans, Black-eyed Peas, Buckwheat, Fennel Seed, Fenugreek Seed, Garbanzo Beans, Green & Red Lentils, Millet, Mung Beans, Mustard Seed, Whole Green Peas, Raw Natural Pepitas, Quinoa, Natural Raw Hulled Sunflower Seeds, Triticale Berries, and hard red wheat berries.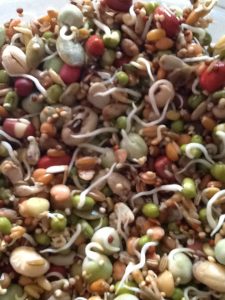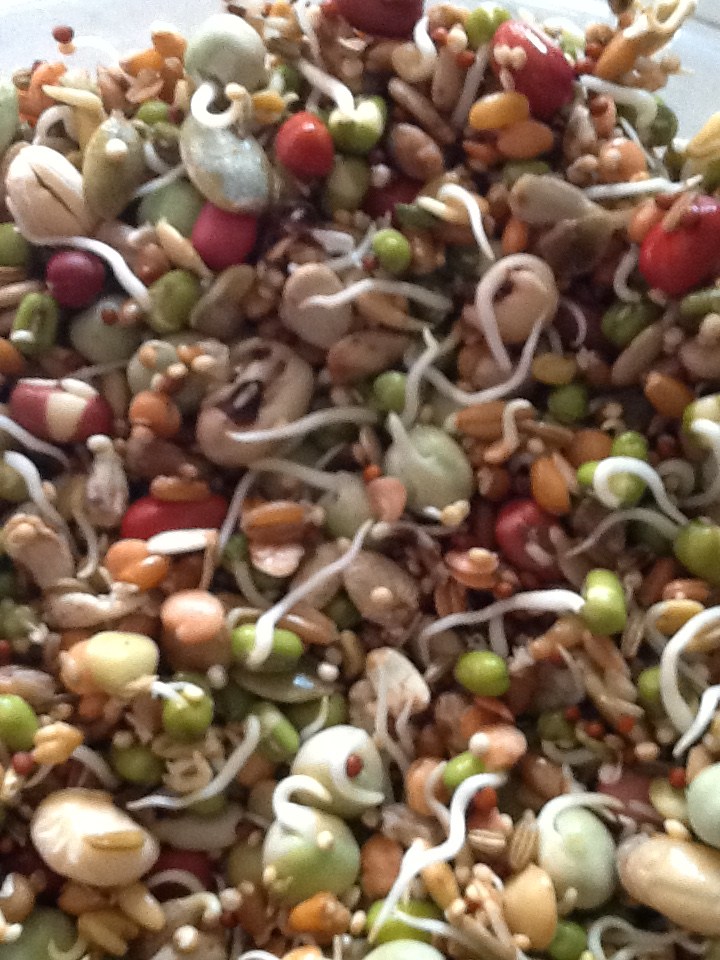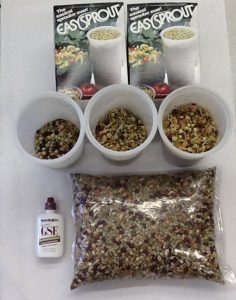 Layered Salad
This masterpiece is truly a labor of love. It's the second course in the nutritionally complete, "wet food" component of the daily diet of our pets and parent birds. The bottom layer consists of our own birdie fast food Nuts for Waldo, then a generous portion of calcium-rich greens (such as collard or kale) plus interesting, seasonal Asian greens from the local organic markets. We pile on carrots and two or three varieties of squash. Sweet potatoes or yams are peeled, hand cubed and cooked al dente.  Sweet potato cubes and our sprout mix are the first foods introduced to our weaning babies and do they ever relish both.
Seasonal fruits such as pomegranites and berries are next. The mélange is topped with organic citrus (such as oranges, but sometimes grapefruit or tangerines) that acts as a natural preservative.
Available only to local customers and you can order in advance. Shelf life is four days.
King Tut's Royal Quinoa Muffins
Named for the famous greeter at the San Diego Zoo, who lived a long and extraordinary life! A generous portion of the sacred mother-grain of the Incas (pronounced KEEN-wah) is baked into our nourishing bread. Ingredients also include Cornmeal, Whole Eggs, Applesauce, Fresh Ground Broccoli and Carrots, Dried Cranberries, Raisins, Spices (including Citrus Peel and Cinnamon), and Orange Juice. It's wonderful "comfort food" for your avian friend. These freeze well and generally have a 3 month shelf life if not defrosted until ready to feed.