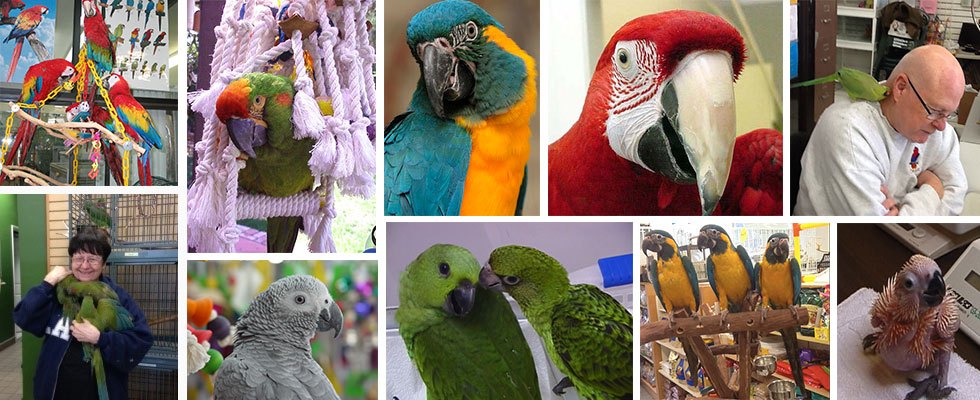 YES, we are a bird store and we try to keep the shelves stocked with all of the latest toys and accessories, but we like to think of ourselves as an extension of our breeding facility Live Oak Aviaries where our goal is the raising of healthy, well-adjusted baby Parrots.
At Live Oak we raise more than 25 species of parrots, including Green Wing, Blue and Gold, Blue throated, Red fronted, Severe, Yellow Collar and Hahns Macaws; Moluccan and Umbrella Cockatoos, Timneh and Congo African Greys, Vosmaeri, Red-sided, Solomon Island and MacGillivray Eclectus. Both black headed and Apricot headed Caiques, Yellow naped, Double yellow headed, Blue fronted, Red lored and Tucamen Amazons. We raise green cheek and sun conures, fancy cockatiels and lots of delightful Pacific Parrotlets.
Parrots Naturally is the realization of a dream that would incorporate our closed aviary concept, our health and nutrition philosophy into what we visualize as an Avian Resource Center, where we could share our philosophy and experience with the public. We believe that a baby parrot placed in our care, hopefully raised by the parents for the first two or three weeks or incubated artificially and then raised exclusively by hand is essentially a blank slate. Yes, there are many traits that are genetically controlled, but we believe that most of the personality and the social potential of the baby is determined by his experience with his human surrogate parents. What an awesome responsibility for those of us privileged to raise these incredible creatures.
We feel that we have a responsibility to educate the public about the wonderful creatures with whom we are privileged to share our homes and our lives. At Parrots Naturally, the sale of a parrot is not a one-day event, it is an ongoing process that includes guidance through the stages of the bird's development, continuing nutritional counseling and providing access to specialists in bird behavior. We do not pretend to have all of the answers, but we do our best to lead our customers to the best resources available.
Arming our bird owners with appropriate knowledge helps all of us stem the tide of unwanted and abandoned birds looking for second homes. The problem is so overwhelming that most of the rescue groups now have a waiting list for birds entering their programs.
Judy and Bill Lantz are both licensed Clinical laboratory Scientists. In their previous lives they both worked in the field of clinical laboratory medicine and until 1998 owned Warner medical laboratory in Woodland Hills. They provided testing services to traditional medical doctors but also developed unique procedures that were used by practitioners of complementary medicine (a discipline that attempts to meld traditional Western medicine with Asian medicine).
We have often said that Parrots Naturally is not a Pet Store and not even a Bird Store, although we have quite a flock in the store. It has become an Avian Resource Center through which we hope to provide the tools and expertise to assist people in the proper care and nurturing of their parrots. Education is the core of our business.