Birds purchased from Parrots Naturally are assured of a boarding reservation  Please schedule your bird's stay as far in advance as possible, especially during the holiday seasons.  For birds that were not purchased from Parrots Naturally please refer to our boarding policy to follow.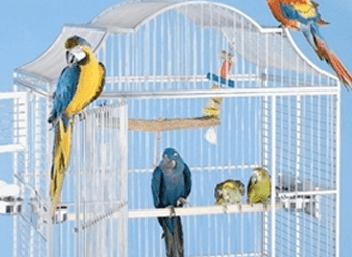 You would like to board your bird at Camp Parrots Naturally?
If you purchased your parrot from us, you know that he or she is always welcome to board as long as you do not use any other boarding facility. Because all of our birds are raised in a closed aviary environment, we are confident of the health status of your bird.  We highly recommend a well-bird check with your local avian veterinarian every two years.  Try to make your boarding appointment as early as possible. We have limited space and we do fill up early during the summer and holiday seasons.
If you did not purchase your bird at Parrots Naturally, we may agree to board your bird, but we must have medical records showing that your bird has been tested and is free of the diseases that are of concern to all of us. Specifically, we must have a copy of test results showing a negative result for Polyomavirus, Psittacosis (Chlamydiosis), Psittacine Beak and Feather Disease and Wasting Disease (PDD), now called Bornavirus, The tests should be performed within 90 days of the the scheduled first boarding. The requirements for continuing boarding of your bird are the same as for birds that we have sold. Medical records showing well bird checks will be required.
What to expect at Parrot Camp
Accommodations: Your bird will be boarded in a comfortable cage suitable for his or her size. These are the same size cages in which we house our pet birds and babies that reside at the shop. All cages are thoroughly scrubbed and disinfected as needed and before each new bird is checked in. We do not ordinarily cover the bird cages of boarders because the shop is relatively dark and we do make sure that the birds receive the required 12 hours sleep. But if your bird requires covering, be sure to mention it when you make your reservations.
Entertainment: OK, If your bird is not used to lots of toys in his or her environment, this is a necessity at Camp Parrots Naturally. We will provide one or two acrylic, or easily disinfected type toys. In addition, your bird needs chewing toys, so bring some favorites. If you do not bring disposable toys, we will provide one chewing toy and will add the charge to your bill. The charge will be $10 for small birds (up to conure size), $20 for medium sized birds (African Grey, Amazon and similar size) and $30 for macaws and large Cockatoos. If your parrot is accustomed to a special enclosure or perch for sleeping, please don't forget to bring it. This includes coils, bungees, shelves, huts and birdy buddies.
Checking In: Please note our regular business hours and arrange to check in during those hours. Occasionally we can accommodate other "check in" times, but please call in advance (818 887-1233) for special arrangements. Bring your bird in a suitable carrier and be sure to take the carrier with you. Unfortunately, carriers have a habit of disappearing in the shop.
Checking Out: As with checking in, please arrange to pick up your bird during regular business hours, unless other arrangements have been made in advance. Don't forget to pick up toys and other important items.
Room Service: Sorry, no special treats allowed. Please do not bring any food items. We do feed appropriate foods and lots of healthy treats. Don't worry, we will make sure all of your bird's nutritional needs are met. Quite often, boarders go home on a better diet—Trust us
Diet: If you purchased your bird from us, you were instructed on proper feeding and diet, and if you continued with our dietary recommendations your bird will be right at home. Because we offer such a variety of food all other birds will be pleased.
Boarding Agreement:
If this is your first time boarding you will be required to fill out a boarding agreement. You can review the form by
clicking here
. 
Thank you for trusting us to care for your precious charge. We will treat him or her as one of our own.